In this post I will show you all the prerequisites you need to have your online store.
I am also going to tell you what you have to request from your webmaster and what things you must provide to develop your virtual store.
The purpose of this article is to give you a rough idea about what you will have to face if you decide to self-manage your store, showing you what the product configuration screens look like, what data you must enter and how it is reflected in the general view of the store.
You will see that it is quite simple and the graphical interface is very friendly, similar to the ones you could find in places like Mercado Libre or Ebay.
Let's start
The first thing you need to enter the world of virtual sales is to become aware that you will be the owner of a business, even if it does not exist physically.
That makes you an entrepreneur and you must assume yourself as such, and understand that your website It has to generate monetary income that improves your subsistence and your quality of life.
It is useless if you have a beautiful virtual store, with hundreds of products if behind it there is no human factor that supports it.
A virtual store can greatly simplify the management of selling online, both for you and your customers.
It provides you with all the necessary security factors to automatically carry out all commercial transactions. But you have to work conscientiously and with criteria, and not leave anything to chance.
>>> I WANT MY ONLINE STORE <<<
Requirements to have an online store
These are the fundamental elements that you have to have to start your business on the internet:
1. Graphic and Web Designer
Once you have made the decision and commitment to be an entrepreneur, the first thing you have to do is hire a good graphic and web designer, who will advise you and be able to develop a virtual business tailored to your needs, with efficiency and responsibility. .
Look for a designer who has proven experience in virtual store design.
Not all web designers know how to develop online stores.
Although a store is a type of website, its design and operation is quite different and requires special knowledge.
I advise you that your web designer is also your webmaster, since he will have a global vision of the development of the store and its correct operation.
Services to hire
To have an online store, or any other type of website, you need to acquire a national or international web domain, and a webhosting service.
You can purchase this on your own or through your webmaster, who will surely offer it to you as a additional service so that you ignore all the commercial and technical questions that you probably do not know.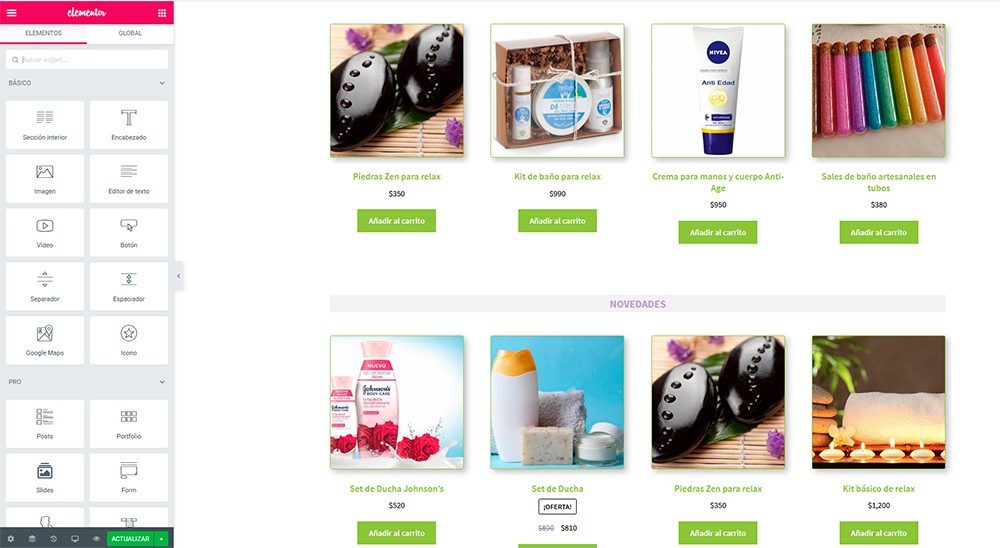 The domain is your web address, something like your home address, and which we all know as "www.yourcompany.com.ar", and it is the one that is written in browsers to access a website
This domain is unique and unrepeatable. There cannot be two equal domains, although they can be similar.
National and international domains
National domains (.com.ar) refer to Argentina, they are acquired through NIC.AR and previously you must be registered in AFIP to qualify and be the owner of a domain.
They are valid for one year and are renewed at each expiration date.
The lack of domain renewal will cause your site to crash and remain offline, with all the consequences that this may bring you.
Therefore, I recommend that you schedule the due dates.
International domains (.com) do not refer to any country and are acquired through companies or domain sales websites. You do not need to register in AFIP.
They are widely used by multinational companies.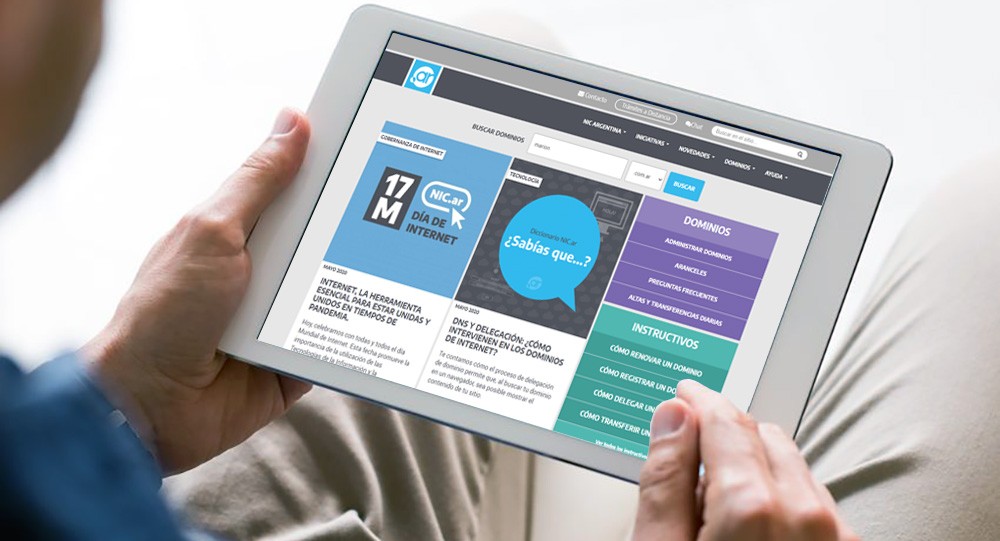 Webhosting is an outsourced service.
It is a virtual space that is hired on a server to host (host) a website and it is who allows this site to be active.
It is generally paid in advance and periodically (yearly, semi-annually, monthly, etc.) depending on the company.
The web hosting provider in addition to giving you the space on the server, provides you with several tools related to your domain: create email boxes with your domain (eg info@tuempresa.com.ar ), create sub domains, databases, obtain statistics on the traffic of your website, technical service, etc.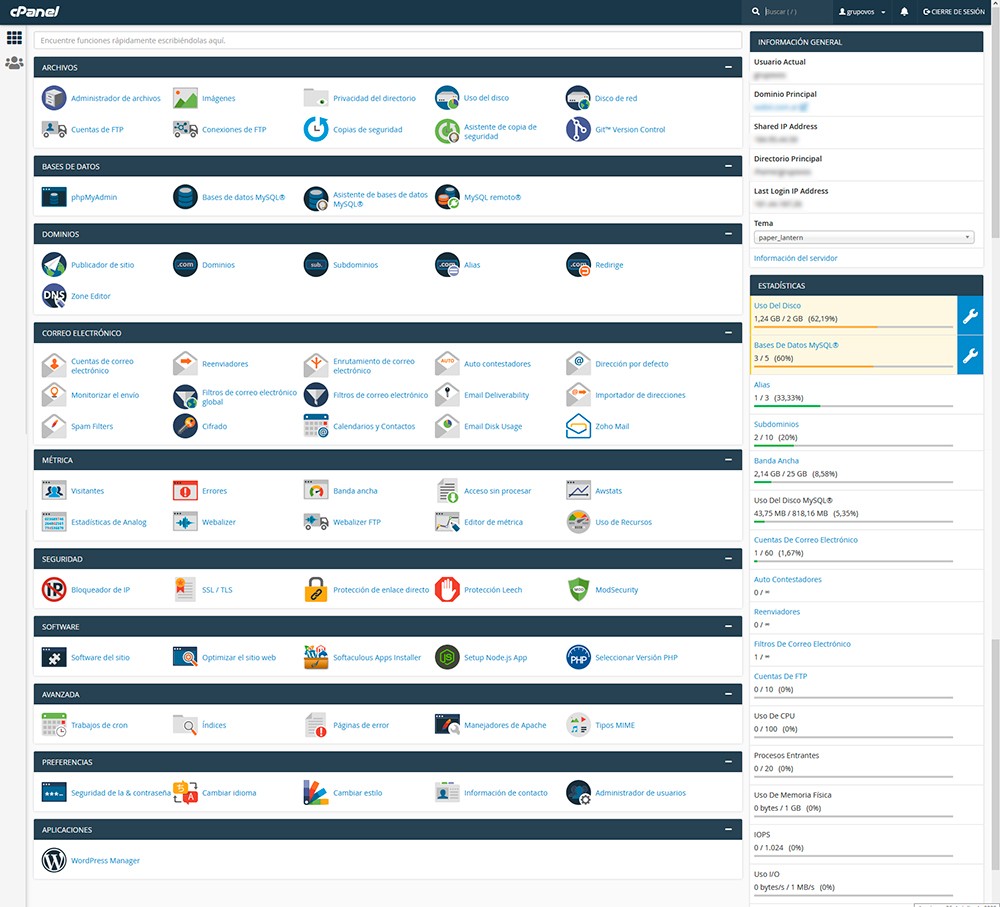 It is very important that the web hosting service is of very good quality and compatible with WordPress.
It must provide you with the SSL (https) security protocols that will allow you to carry out commercial transactions safely through your virtual store.
I suggest that your webmaster be the one who provides you with the web hosting service since he will surely have experience working with such a company and there is a communion of teamwork between the two endorsed by years of experience.
If you do not have experience in web hosting, no assume that responsibility, since there is a lot of terminology that you do not know and that you will need when making any technical or administrative consultation.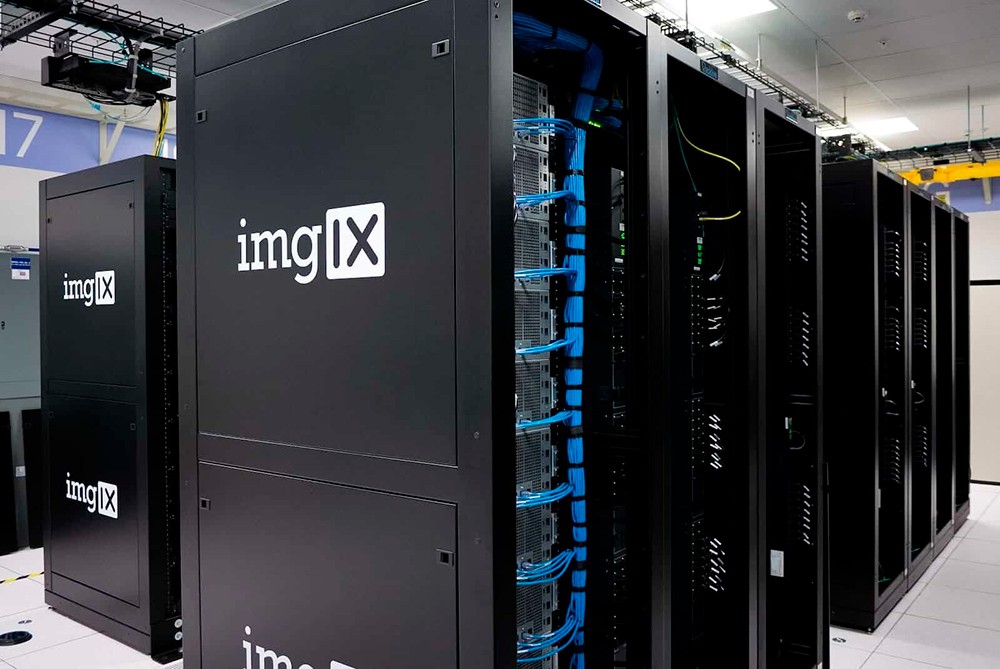 A webmaster is a graphic and web designer who designs your site or your store, manages the contents, updates the templates and plugins so that your website is always safe.
It also solves technical problems that may arise.
Never think of your designer as an all-in-one polirubro maxikiosk.
While we have global knowledge on many topics, we are not competent in all areas.
In design there are also specific tasks for each need.
Surely you would not ask your cardiologist to prescribe glasses to see better. True?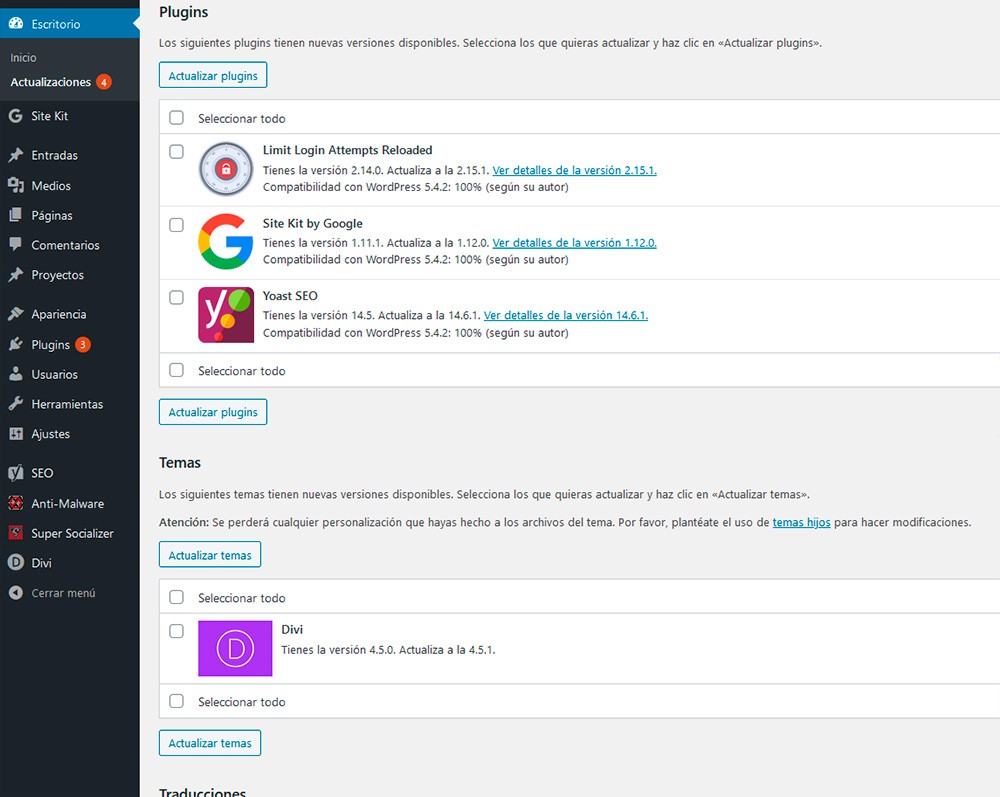 Do not confuse Webmaster with Comunity Manager, since they are two completely different tasks.
The first one handles the design of your site and the whole administrative and technical issue, while the second one creates content for your social networks and cares for your followers.
Once you have hired the first 4 requirements, your designer is ready to start working on the design of your virtual store.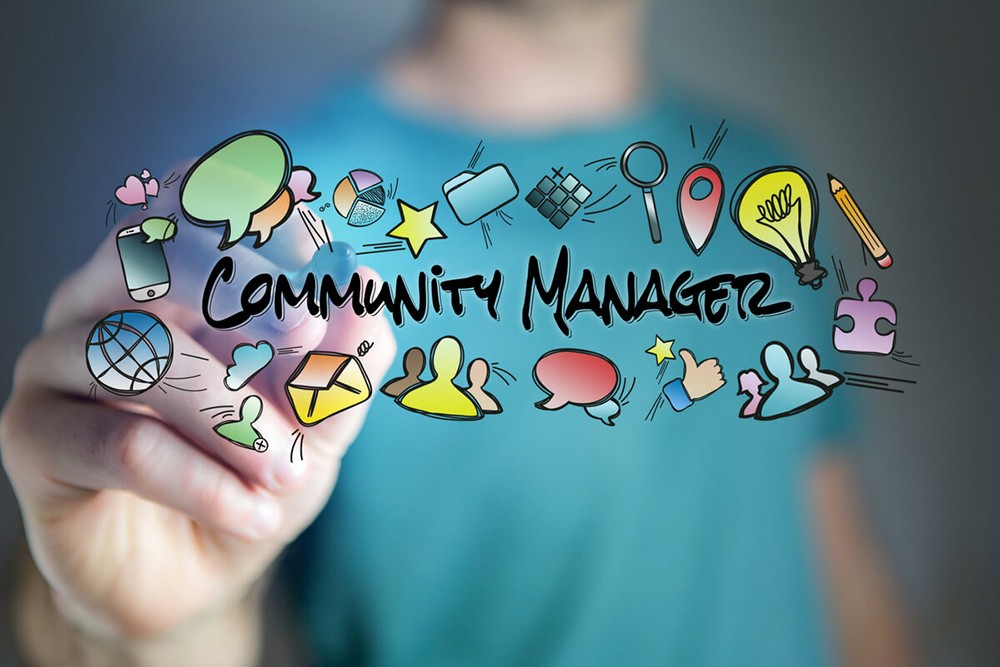 The online store is configured only once and you will have to provide the following personal and administrative data:
Determine the postal address of the store, city, postal code, telephone numbers and opening hours, geolocation, etc.
Choose which areas and countries you want to sell to.
Define shipping areas: Each area has a different cost and taxes.
Indicate the taxes you are going to add.
Activate discount coupons. (optional)
Define currency of payment.
Allow public reviews and ratings on products.
Add payment gateways.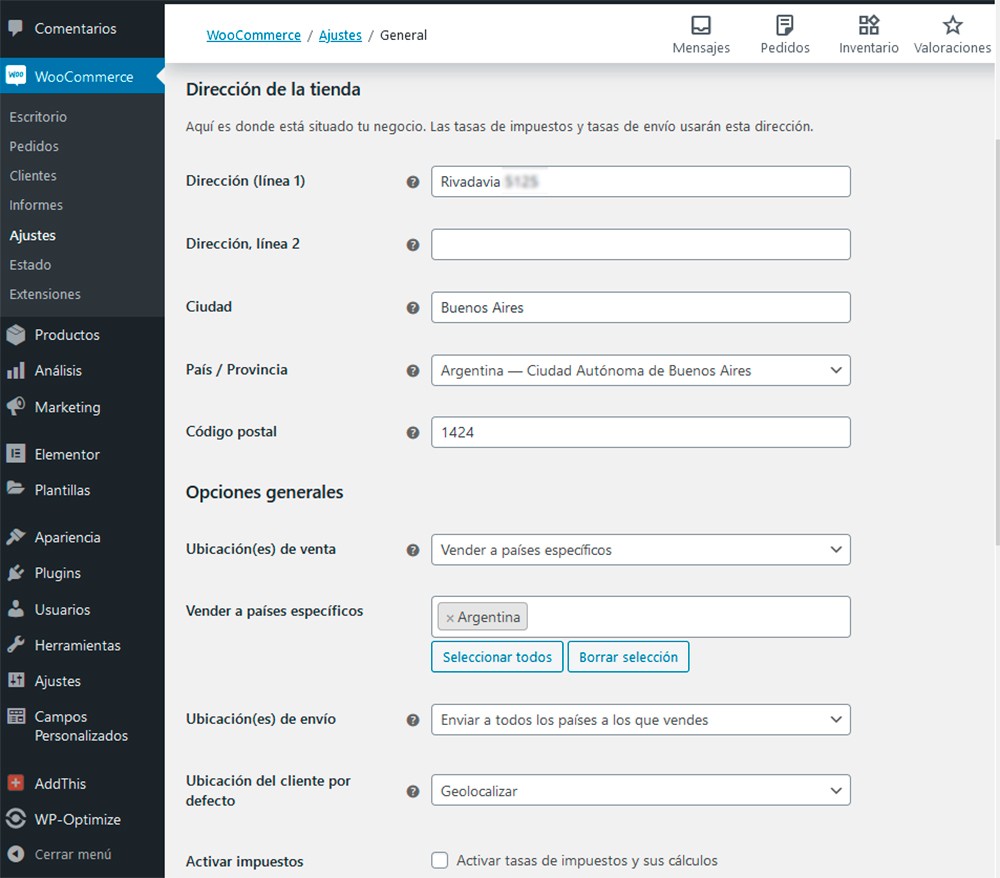 Here begins "your work" providing all the information of the products for your store.
So create a document in Word or an Excel template and start collecting the information.
Before you start, I advise you to describe your products with a view to applying SEO. (search engine optimization like Google)
I invite you to read my post How to improve SEO in your online store for more information.
 I suggest that you classify your products in headings or categories. Each product can belong to 1 or more categories and it will appear in all of them.
Product Configuration
Each product in the store allows you to enter the following data:
Main title: It is the brief descriptive title of the product that appears in the general grid of the store followed by the price. This will be the title of the product page and the fundamental factor for your client to find it. This title is also essential to promote SEO
Price: It is the sale price and, if you want, also add a reduced price. In this case, the sale price is crossed out, the reduced price next to it and an indicator that says SALE. Temporary salescan be created (for example: from July 15 to 25).
Short description: It is a small text that complements the title and appears immediately below the price when entering the product (you can indicate brand, color, size, etc.)
Long description: It is what appears below as technical or complementary data. It can include additional photos and videos, technical data, measurements, ways of use, advertising messages, user manuals, frequently asked questions and everything you need to explain about the product.
Code or article reference (SKU): Each product has a code and can contain letters and numbers which we call SKU. This is the reference code that will appear in the inventories and in the order notes. You can just put the article number if you wish.
A friendly and self-manageable graphical interface
The following image shows the editing panel for each product in the store, where you can see the fields that you will have to complete.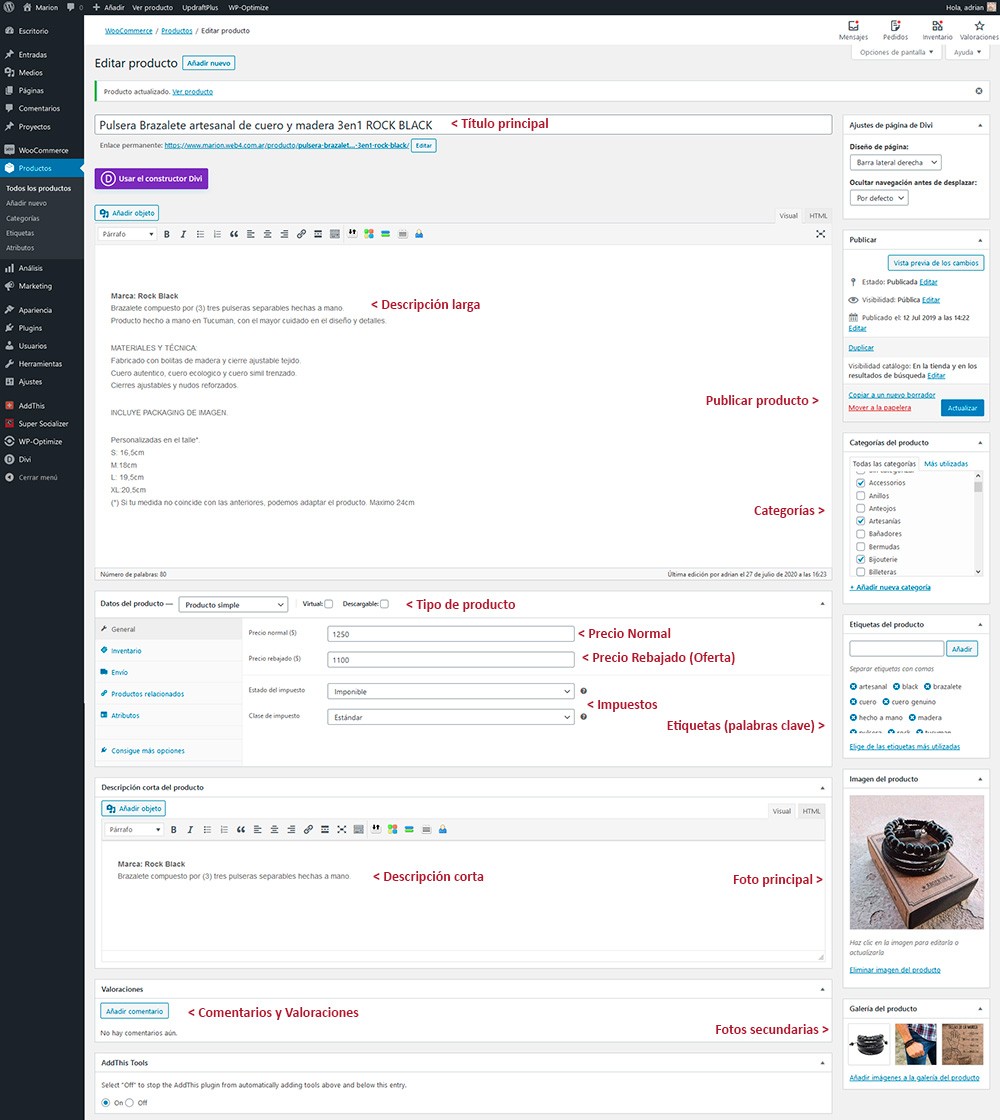 The data you entered in the previous panel will be reflected in the general list of the store. (Photo 1)
By clicking on the image you access the individual page of each product where the complete descriptions are displayed. (Photo 2)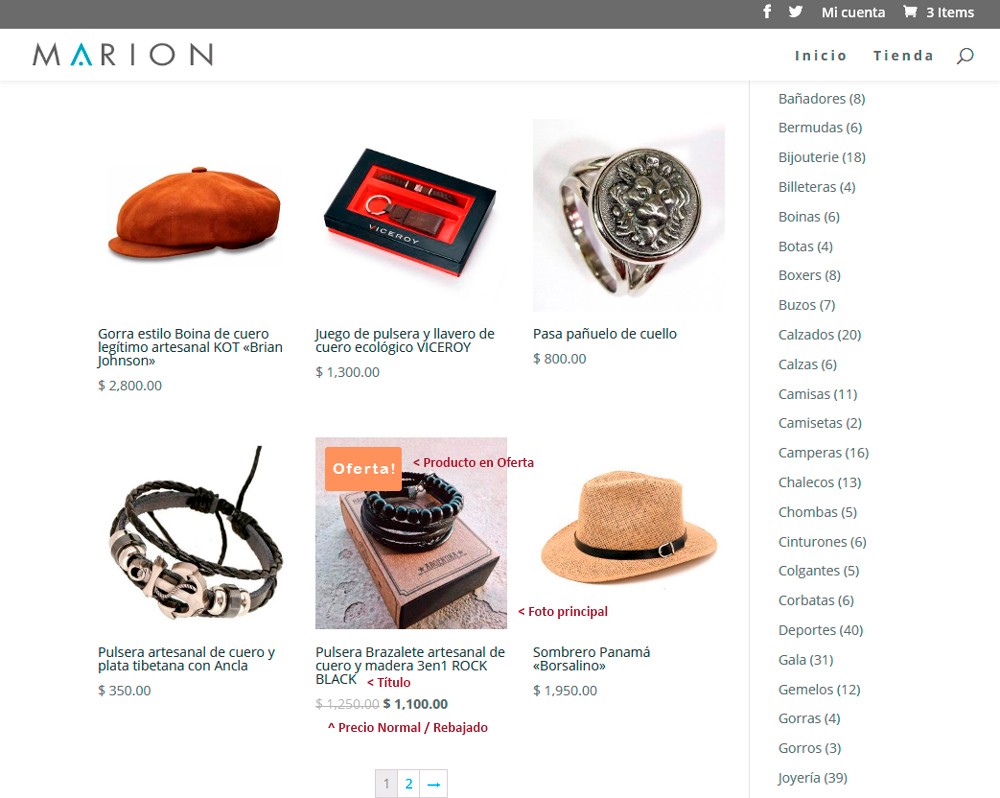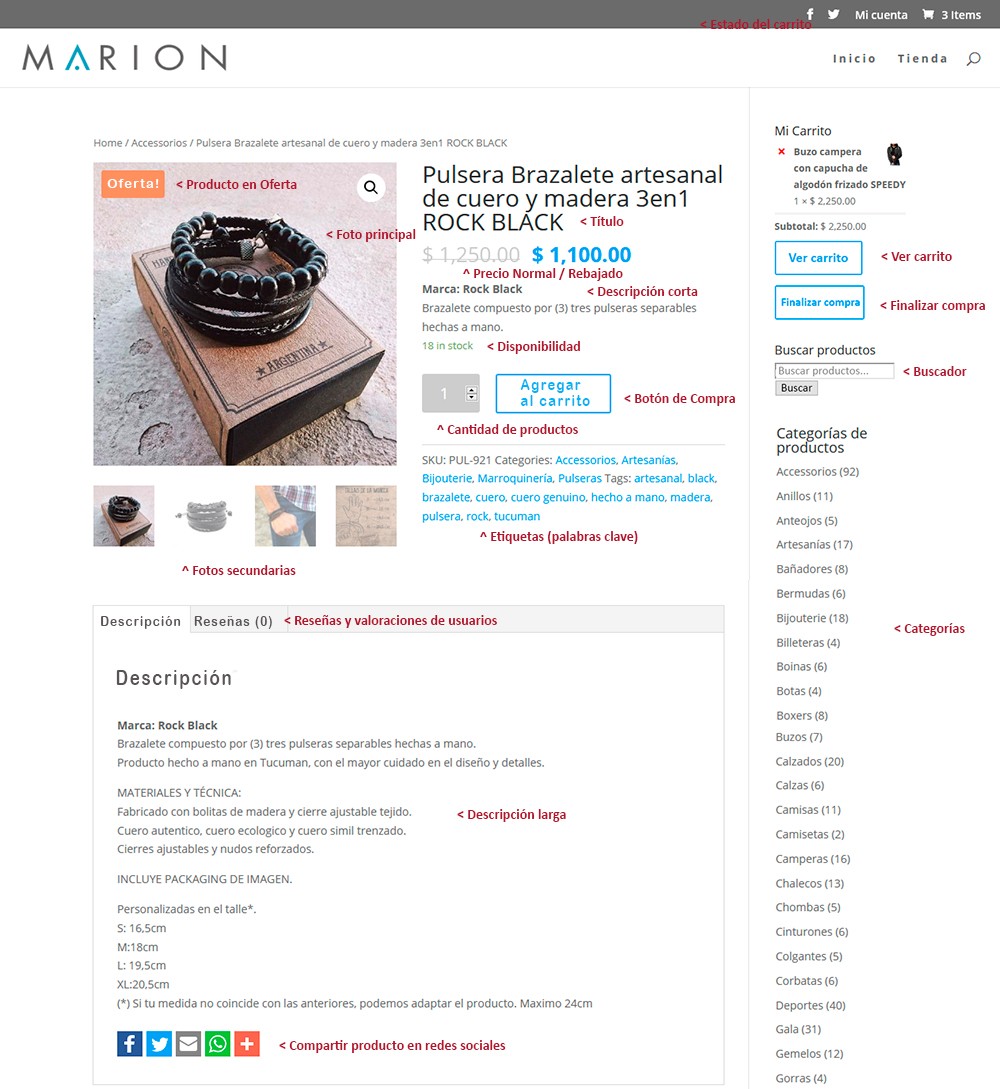 The images are essential to convince the customer to decide to buy your products.
The quality of the photos represent more than 80% of the success of your online store.
The images have the fundamental role of capturing the customer's attention and therefore they must be of excellent quality, and they must show the product from very well cared for strategic angles.
Each product must have at least one main photo and can have a gallery of additional photos.
You can also include videos, previously uploaded to your YouTube or Vimeo channel.
I advise you to read my article How to get the best return on your product photos for more information.
Photo nomenclature
In order to facilitate the work of your designer and favor SEO (Google Search Optimization), I suggest you name the digital files as follows:
Product code (SKU) + description + (brand) + (color, shape or size) + (order number in case the same item has multiple pics)
BRA401-leather-bracelet-3in1-man-bracelets-rock-black-1.jpg
Never leave the name by default as you get it from the camera (eg pic0024585.jpg ) Your designer does not know your stock and Google does not like those names and ignores or penalizes them.
You can read my article How to improve SEO on your website for more information.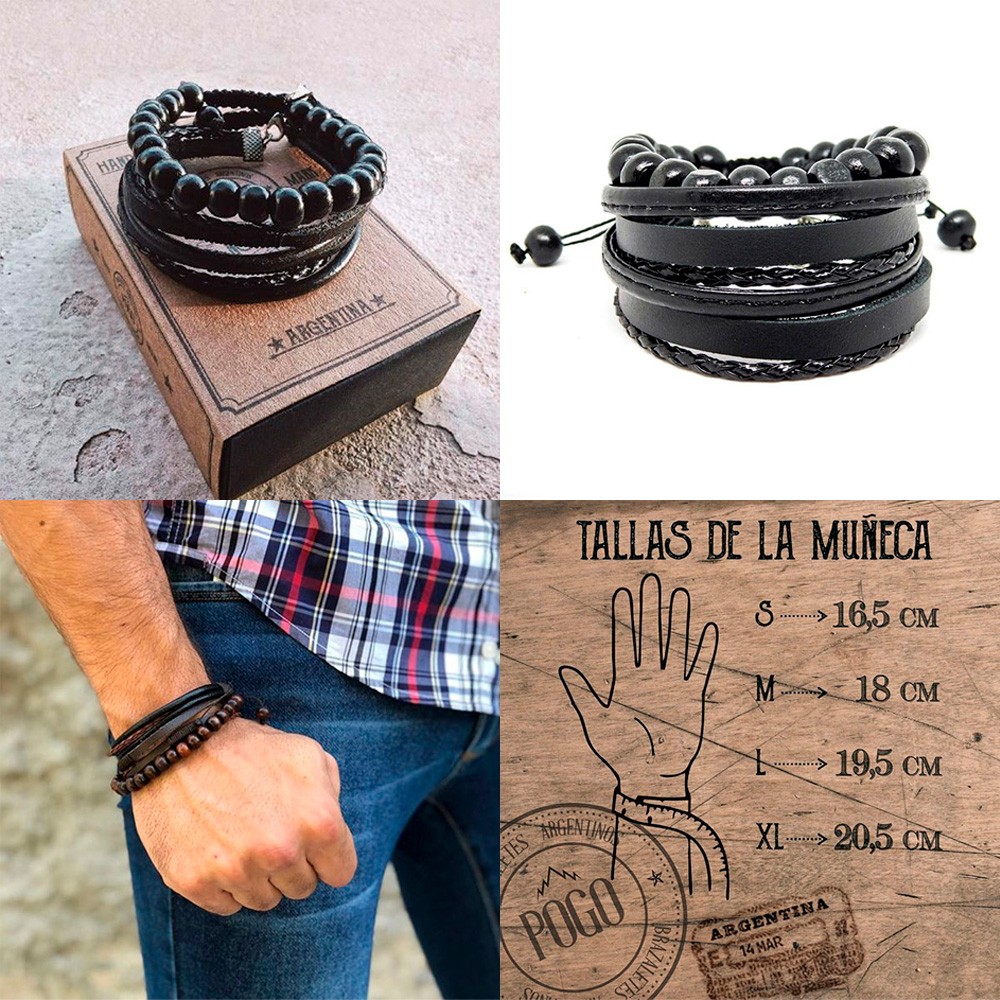 Final conclusion
I hope you enjoyed this article and that it was useful to you.
The advantages offered by e-commerce are so many, that there are definitely no reasons not to try to position yourself on the web.
What are you waiting for to have your virtual store?
If you wanted to have your virtual store and you consider that I am a suitable professional, do not hesitate to contact me, I will gladly advise you.
In the Related Articles section below, you will find many articles with specific topics that complement the one you just read. Thank you!
>>> I WANT MY ONLINE STORE <<<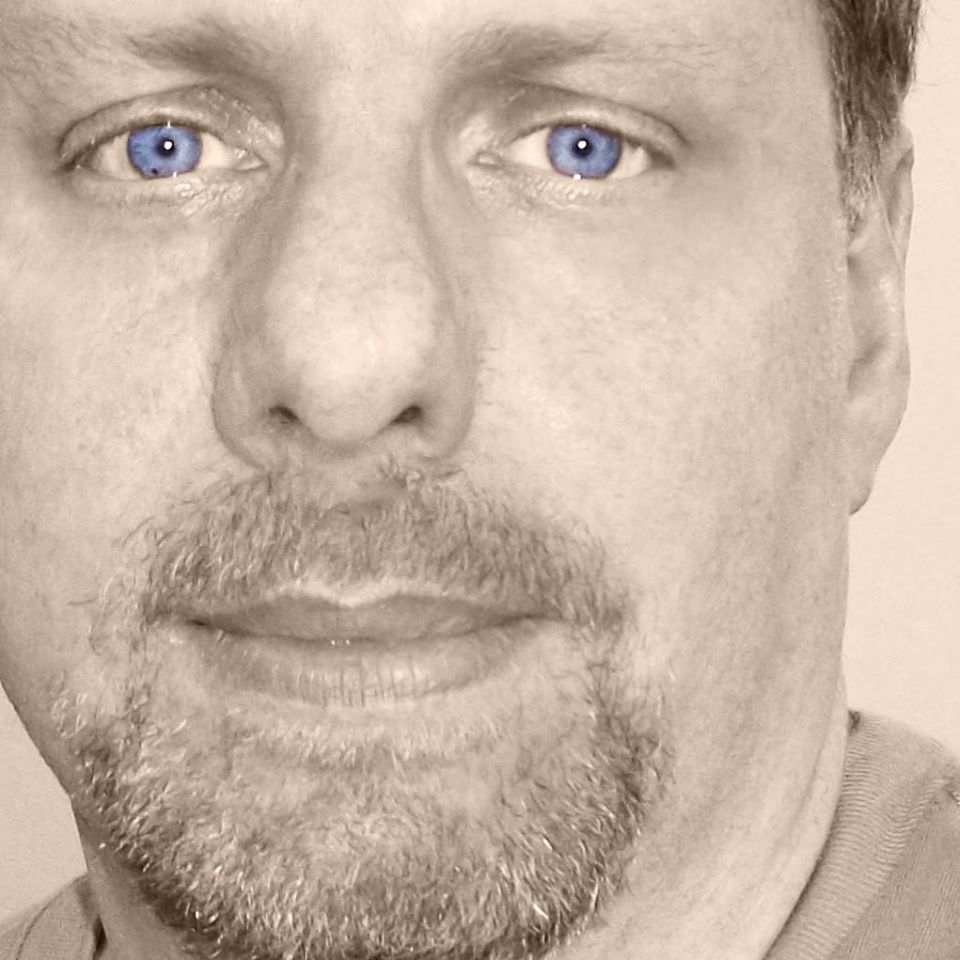 Adrián Pablo Conti
I am a Graphic and Web Designer graduated from the University of Buenos Aires (FADU-UBA)
Since 1993 I have run Web4, my own freelance graphic and web design creative studio, located in the City of Buenos Aires (Argentina)
Me I specialize in the development of visual identity, institutional communication, web sites and online stores, editorial design, catalogs, magazines and packaging design, among others.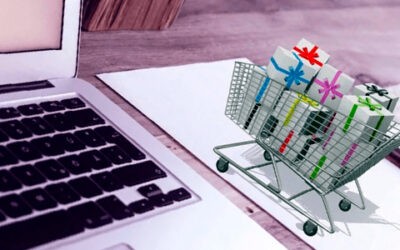 In this post I will show you how to add products in a Dropshipping online store from AliExpress. I will also give you some tips to choose good suppliers and products, and how to edit and publish them to optimize your online store. This is the fourth and ...
read more